My young niece asked me if one can have an active sex life without worrying about sexually transmitted infections; not knowing what to answer, I told her that I will answer her question later because I needed time to research and discuss with some of my learned friends.
The question got me thinking deeply about the possibility of not suffering any form of STI once you become sexually active, especially for girls; being that all the sexually active ladies I know have suffered one form of Sexually Transmitted Infection or the other.
STI stands for Sexually Transmitted Infections. It usually spread through sexual contact with an infected partner.
Some of the most common STIs include chlamydia, gonorrhea, syphilis, herpes, Human Papilloma Virus (HPV), and HIV. Some of these STIs like chlamydia, herpes, and syphilis are curable, while HIV still has no known cure up to date.
Read about Symptoms of STI here, but In many cases, infected people can be asymptomatic but still pass on the infection to their partner. Some sexually transmitted infectious agents like HIV can lay dormant in the body for years before finally activating and causing AIDS.
In some bodies, it never activates at all, but such people can still spread the infection. It is always recommended that one should get screened for STIs so that even if they have a dormant infection, they can start caring for themselves and avoid spreading the infection.
Could I Have an Sexually Transmitted Infections and Not Know It?
For males, it is not so difficult to discover if you have an STI or not. But for the ladies, it can be tricky; so you check down there, No itching, No lesions, No weird discharge or funky smells, and it doesn't hurt down there when you pee.
There's nothing obvious that would make you anxious or send you to the doctor; and you think that means you're OK, right?
Not exactly, as already stated, it's possible to have an STI and not know about it. Sometimes symptoms are mild, and sometimes they can be mistaken for other conditions or no symptoms at all (WebMD).
Truth is, whether you are showing symptoms or not, sti can cause health problems.
Blue Waffle – Blue-Tinted, Pus-Covered, Lesion-Filled Labia
This sexually transmitted infection known as Blue Waffle caused fright in teens, even though we only have one certainty about it: it doesn't exist.
Thus, we find it necessary to throw more light on this myth, to banish it completely.
How Blue Waffles Changed How We Think About sexually transmitted infections
It all starts with burning and itching on the genitals a few hours after having sex. A few days later, a rash appears accompanied by reddening of the vaginal lips and generalized swelling of the vulva.
By then, the pain is severe, and if left untreated, the infection's most severe symptom appears, a blue patch that invades the external genitalia – thus, the name Blue Waffle.
As if the long list of sexually transmitted infections known so far was not enough, dozens of cases of this mysterious condition caused panic among adolescents, translated into search engines that flooded the web about the phenomenal disease, its symptoms, and treatment.
The Blue Waffle case even reached the ears of different state authorities as a public health issue and there were some civil associations that demanded clear information from the government about an alleged epidemic.
Blue Waffle Symptoms
Many of the symptoms allegedly associated with the blue waffle include:
a red or irritated vulva or vagina,
unusual discharge and
itching or burning
This could be signs of a condition called vaginitis.
Vaginitis is a very common irritation of the vulva or vagina. Click here to learn more about vaginitis. If you think you have vaginitis, it is important to see a healthcare provider right away.
Blue Waffle does not exist; however, many sexually transmitted infections caused by virus have similar characteristics.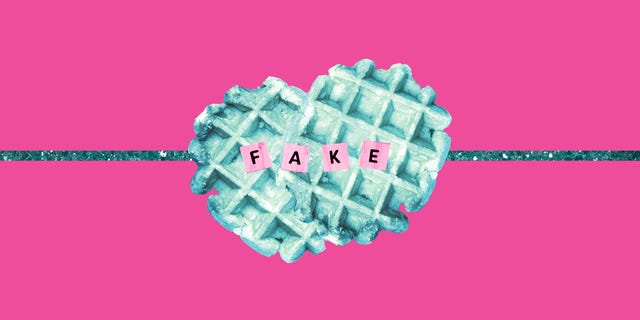 According to urban legend or false rumor, the blue waffle makes the vulva turn blue. My expert opinion is that blue genitalia is not true, and in any case a darker lip is normal.
All bodies are not created equal, so some people also notice that the lips of the vulva become darker during puberty. Again, it is completely normal.
Your Guide To STI-Free Sex Life
The only certain way to not contract an STI once you have an active sex life is abstaining from all kinds of sexual activity. Since the idea of abstinence may sound far-fetched for most of our young ones, there are ways one can have sex but still lessen the risk of getting sexually transmitted infections.
Do Feminine Hygiene Products Cause Vaginal Infections?
Vaginal infections are very common, and they mostly occur when the Candida fungus that lives in our vagina grows uncontrollably. This can be due to many different factors, some of them related to hygiene.
Inner hygiene products such as tampons, panty liners, and sanitary napkins do not cause vaginal infections as long as they are changed with the appropriate frequency.
If you don't change them frequently, they become the perfect environment for the growth of fungi and bacteria, which can cause more serious problems (like toxic shock syndrome) than just vaginal infections.
Panty liners should also be changed at least 3-4 times a day, to avoid the accumulation of moisture that can trigger Candida fungus growth.
Soaps And Showers
Surely you have heard the saying "the vagina cleans itself". This refers to the fact that it is not necessary to introduce any type of soap into it, nor is it advisable to use the so-called vaginal douches, since you can alter the pH of the vagina; and that can predispose you to infections.
This does not mean that you should not wash your vulva, however, the recommendation is that you use neutral soaps or special products for this area.
If you perceive an unpleasant smell in your vagina, it is best to consult your gynecologist or doctor. It is very important that you know that this part of your body is not supposed to smell like peaches or be odorless.
Thus, do not be scared if it has an aroma that you can distinguish, but it should not be unpleasant or excessive. If you smell a bad smell, it could be a sign of an infection; don't try to solve it with scented soaps.
Hygiene In The Bathroom
Toilet paper itself does not cause vaginal infections, however, not having a proper cleaning can contribute to the growth of fungi and bacteria.
Cleaning with toilet paper should always be from front to back and never the other way around. This is to prevent germs present from the anal and perianal region from coming into contact with the vagina.
Take these recommendations into account to avoid, as much as possible to avoid infections from using these hygiene products cause vaginal infections.
If you feel itchy, burning, or painful sensation when urinating, or have a white, lumpy discharge, you probably have a yeast infection.
Do not worry! If this is the first time that you have had an infection, you will find products here that you can use to treat symptoms, internal and external, in a single day. You will be surprised how quickly your symptoms disappear.
Vaginal infections are super common, and 3 out of 4 women suffer at least one in their life. You don't have to be sexually active to get hit, nor does it depend on how many sexual partners you've had. It can happen to you at any stage of life and that can be solved ridiculously easily with over-the-counter treatments.

If you are reading this because you feel itchy, burning, or have a whitish discharge with a texture like a cottage cheese, don't think twice. You can get this Vaginal Health Test Pack to really know what is wrong with you. You can also visit your doctor or go to the pharmacy, and solve this problem in just a few days!
4 Techniques To Seduce A Man For A Healthy Relationship
They say that money and love cannot be hidden and, yes, it is totally true. When we like a person, we get more nervous when they are around. We also invent excuses to spend more time with them. In short, we try to show him our interest.
The problem begins when you can't figure out if what you feel is reciprocal. But before throwing in the towel, apply these proven techniques to seduce a man and make him fall in love with you.
These techniques don't only make him fall in love with you, but also allow you to enjoy a healthy and active sex life with him without sexually transmitted infections. Come back and thank me later.
The common idea has always been that men and women fall in love in a very different way. We women are more sentimental and we give great importance to details, while the men are very visual and fall more in love with what they see than what they feel.
However, a study by the University of Pittsburgh, United States, found out that men fall in love long before a woman, but they do not show it for fear of rejection.
So, what are the techniques to seduce a man and make him fall in love with you?
Whether this is true or not, what we cannot deny is that we ladies are very passionate and sometimes we fall in love easily. On the contrary, men go through four fundamental stages to be yielded to a woman.
The stages are:
First Stage – They Are More Visual Than Us
Although many men deny it, the truth is that love enters them through their eyes. They will hardly want to go out with a woman who is not attractive to them. Thus, if they are already dating you, it is because you are attractive, but probably they need a "Push" to define what he wants and feels for you.
Second Stage – They Look For Someone Who Inspires Confidence And Trust
A man who is already interested in you will pay close attention to what you say, he is likely to look for things in common with you, especially, to have something to talk about, although this does not mean that you have to change your behavior to attract his like.
Third Stage – When It Is Time To Introduce You To Their Family
No matter how long they are in a relationship, when he is ready to introduce you to his family do not take it lightly because for them it is not just anything; it means that you have become an important woman in his life and that he is not for games. He wants a serious relationship with you and maybe he sees you in his future plans.
Fourth Stage – Discover and Complement Each Other Even In Bed
At this stage, there is impressive chemistry between you two, expressly under the covers. In those moments of passion, they know perfectly well what they like and they are not afraid to discover you because they know that their love is unconditional and there is a bond that is strongly emotional.
Do not worry about what he may think of you and your sexuality, he will thank you for your freeness with him (even if he does not say it). You only have to make sure to use the advice above to enjoy an active sex life without sexually transmitted infections.
Apply these techniques to seduce that "special person" and make him fall head over heels in love with you.
Do not forget that for a healthy relationship, love is nurtured every day with small details. Thus, if you have already found the love of your life let him know how much you love him and how important he is to you.
Relationship Advice
Over time, routine seems to become a great enemy of relationships. Always the same gestures, the same words, the same situations.
These are factors that generate feelings of indifference or boredom, wearing down what was once a perfect love-filled healthy relationship.
How Can We Continue To Maintain A Healthy Relationship And The Famous Flame Of Love?
Generally, in the dating stage, we live the relationship in a more intense and euphoric way, disconnecting from social reality and living for some time on our own.
Little by little, we reconnect, trying to impress our partner in various ways. For example, give flowers, give gifts, go to the movies, invitations to lunch or dinner, take a trip, share a hobby or leisure activity, write a letter or SMS, as well as kisses, caresses, even the experimentation of one's sexual and seduction strategies, etc.
These little details, which at the beginning of most relationships give so much liveliness and emotion, wear out over time due to various circumstances; living together, getting married, having children, etc…
The one thing we must bear in mind is that couple relationships have a certain resemblance to a garden.
All those little things that were formed from the beginning, if they are not maintained or reinvented in later stages of the relationship, will wear out, leading to separation, or even living together, but being emotionally separated.
This is just as we do with our garden when we fertilize it and water it. In addition, the emotional investment of both members is also something to take into account, since an imbalance can originate from one of them.
First, we must bear in mind that conflicts or arguments are something inherent in a relationship, which in one way or another will always be present.
It is logical if we consider that each human being is unique and we will often maintain different positions, opinions, and needs. The key is to know how to solve it in the best possible way for both of you, of course with desire and effort.
Some Tips To Keep Couple Relationships Alive
Endeavor to maintain the surprise factor to maintain your healthy relationship. When a person feels safe with the other member in a relationship, they forget about the surprise factor of the relationship; of looking for new ways of living together to give that new flavor to the interactions of both.
-Spend an exclusive time together as a couple.
-Maintain a positive vision of a future together despite conflicts. You are a team and performance are the responsibility of both of you.
-Know how to give and receive.
–Respect each other's spaces.
-Learn to know each other and respect the individuality of each one.
–Innovate both socially, psychologically and sexually.
–Express what you feel, want, or need, as well as recognize mistakes. In other words, communicate.
In summary, we must bear in mind that each couple is different, with different emotional and behavioral patterns; sometimes sharing positive or negative characteristics with others depending on the personality as well as the cultural context to which they belong.
The important thing is to accept your partner as they are, not trying to modify the other according to your own taste or mold because it is not about that.
Understanding this is the key to a healthy relationship and an active sex life without sexually transmitted infections.